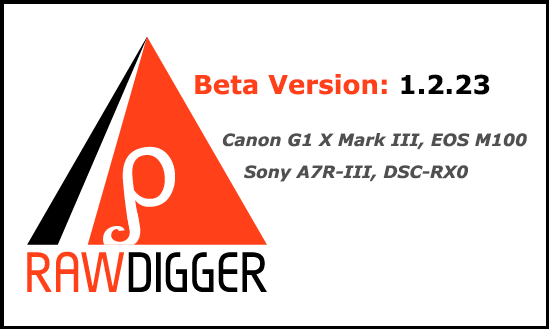 What's new
Camera support added:
Canon G1 X Mark III, EOS M100
Panasonic DC-G9 (standard compressed RAWs only, hi-res is not supported yet)
PhaseOne IQ3-100Mp Trichromatic
Sony A7R-III, DSC-RX0
Other updates:
Exiftool updated to version 10.65
Preferences - Display Options - Display RGB render in RAW colors replaced with new option Preferences - Display Options - Camera color profile with values

No profile (raw color) => same as if old 'display in RAW colors' checked
Built-in - internal RawDigger color profile used, same as old 'display in RAW colors' unchecked
Embedded in RAW - use color profile embedded in RAW if present. If no such profile exists, RawDigger will  fallback to Built-in mode.

User-specified camera definitions have precedence over built-in ones; first match win.
Fixed color data for some PhaseOne cameras.
Fixed bug in displaying 1/10s shutter speed in histogram window title bar.
Download links
Windows (XP - 10)
Mac OS X
User manual