This is a rolling update, Version 1.4.2 (Beta), adding the following:
Preliminary camera support
Canon EOS R5, R6
Hasselblad CFV-II 50C
Leica M10-R
Panasonic Lumix DC-G100/G110, DC-S5
Sony A7S-III, A7C
Improved handling of corrupted/truncated CR3 files
Exiftool updated to version 12.01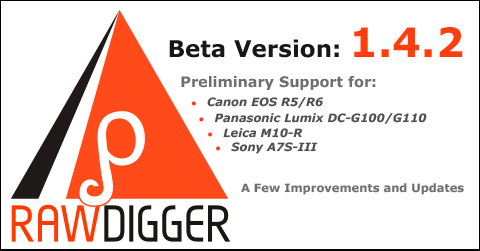 Download Links
Mac
64-bit version for macOS 10.12-10.15: RawDigger-1.4.2.688.dmg
Legacy version (32/64 bit, macOS X 10.5-10.11): RawDigger-1.4.2.688-Legacy.dmg
Windows
64-bit (Windows 7-10M): RawDigger-1.4.2.688-x64-Setup.exe
Legacy (32 bit, Windows XP - 10): RawDigger-1.4.2.688-Setup.exe
Please note: Windows installers are signed with our new code signing certificate, where there is not, as yet, enough statistics about downloads (because we have not signed a single release with it yet). Windows Defender/SmartScreen might warn about a "rarely-downloaded file."
This is fine - just find the "download anyway" option and go ahead.