Camera support
Fujifilm X-T200, X100V, X-T4 (uncompressed and lossless compressed formats only)
Nikon P950, D6
Olympus E-M1-III
Canon 1DX Mark III (lossless CR3 only)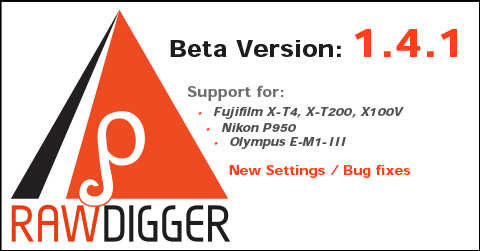 Changes / bugfixes
New setting: Preferences - Histogram - Histogram area font family
Changes font family used in histogram graphs.
Support for 16-bit DNG files w/ deflate (zip) compression.
Exiftool updated to version 11.99.
Bug fixed: monochrome RAWs was displayed in red color in RAW Composite mode.
Download Links
Please note: RawDigger/beta builds for Windows are signed with a new security certificate because the old one is going to expire soon. Because the certificate we are using is relatively new, Windows Defender / SmartScreen may warn you that "this program is not commonly downloaded".
Please ignore the warning, and choose "Run anyway". We've already submitted the builds to Microsoft, and received a response saying that "all is good, after more downloads the message will not be appearing".