This is a rolling update with new camera support and other minor improvements.
Camera Support:
Canon CRM and film roll/raw burst CR3 files
PhaseOne/Leaf IIQ S v2 format support
OM System OM-1
Panasonic DC-GH6
Note: DC-GH6 implements new RAW format, so new type of data decoder. This decoder has been tested on all GH6 samples we have, but we're not sure we have complete coverage. So feel free to report any problems related to GH6 support.
Other changes and bugfixes:
Exiftool updated to 12.41 (with OM-1 support)
Adobe DNG SDK updated to version 1.6
Bug fixed: crash on startup if started by dragging file on RawDigger icon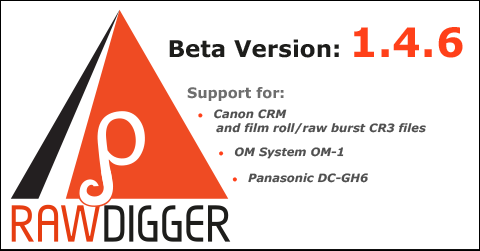 Download links
Windows (XP - 11)
Mac OS X
macOS 10.12-12.x, 64bit: RawDigger-1.4.6.746.dmg


This is universal binary build, it is compatible with both Intel and Apple Silicon Macs running macOS 10.12 and newer.

Legacy (64 bit: Mac OS X 10.5-10.11/ 32 bit: Mac OS X 10.8-10.11): RawDigger-1.4.6.746-Legacy.dmg